Heidi Jaegers – Owner
My name is Heidi and I am the owner of Aja Pet Service. I grew up in Palm Beach Gardens and graduated from the Harriet L. Wilkes Honors College of Florida Atlantic University located in Jupiter, Florida. What can I say, I have solid roots in my community. After college I dove head first into the insurance business. I soon discovered that it was not my passion and continued searching for my niche, it was then that I found my calling. Friends and family started recommending me for pet sitting gigs while I was looking for a "real job" until it dawned on me. A long-term career is not limited to a 9 to 5 desk job! I consulted some friends and conducted some research and created Aja Pet Service almost 12 years ago. I am so blessed that my passion became my career. Growing up I had all kinds of furry and scaly pets that I considered friends. (Horses, dogs, cats, chickens, ducks, goats, rabbits, fish, snakes, iguanas, turkeys, etc.) I love all kinds of animals and makes sure that I give every pet the same care and attention that she gives her own (borderline spoiling them). I have taken that approach to hire, train, and yes… even TEST all of our team members so our clients are sure to get the same impeccable service. If you love what you do, you will never work a day in your life – Marc Anthony
Teah – Sitter
Hello my name is Teah. I am a local educator in Palm Beach County. I often volunteer with the local animal control centers in the area, fulfilling my love for animals. My upbeat, positive attitude and commitment to customer service allows me to meet the needs of clients. I have a background in athletics, health, education, and caring for animals. I believe in providing the highest level of service while maintaining ethical standards. I have a Bachelors and Masters degree in the area of counseling and psychology. I am able to pet sit in Boynton, West Palm Beach, Palm Beach Gardens, North Palm Beach, Palm Beach, etc. I am cannot wait to meet my next workout fur buddy!
Ksenia – Sitter
Hello! My name is Ksenia and I look forward to the opportunity to work with you and your lovely pets! Cats and dogs have always been part of my life growing up and it's always a pleasure to spend time with such amazing creatures! In the past I've worked as nanny, yacht stewardess, and corporate flight attendant, so I am prepared to be of service on every level of specific maintenance and care for your home and pets. I currently reside in Boynton Beach but am available for dog-walking and pet-sitting anywhere in Palm Beach County: West Palm Beach, Palm Beach Island, Wellington, Royal Palm Beach, Palm Beach Gardens, and North Palm Beach, Riviera Beach, and Singer Island.
Alix- Sitter
Hello, my name is Alix. I have always deeply loved and respected animals. Growing up in the Caribbean I had pets of all kinds and felt a strong connection with all of them. As an adult I have traveled and lived all over the world, advocating for animals, often pet-sitting as a source of income and enjoyment. I have mostly cared for dogs, cats, horses, rodents, turtles, reptiles and birds, treating all of these animals as they were my own. When I lived in Canada, I worked at a chimpanzee sanctuary which was a very educational experience. I have also worked on farms in case you have a pet pig or cow or chicken! I settled in West Palm Beach about 3 years ago, working for a local nonprofit and am really looking forward to meeting you and your pets. I offer pet sitting in Old Northwood, Flamingo Park, The Villages of West Palm Beach, and Palm Beach Island for weekend dog walks and overnight pet sitting, as well as cat sitting!
Tina – Sitter
Hello my name is Tina. I am located in Boynton Beach, but originally from Portsmouth England. I am available for all your pets needs, dog walking, cat sitting or overnight stays. My open schedule allows me to be flexible Incase your vacation/trip gets extended, leaving you with no worries for your fur babies. I will take care and love them like my own. Growing up my family bred poodles, this is where my love for animals started. I have worked in the veterinary field for over 17 years. In which time I have rescued 19 dogs, fostering until I found them the good homes they deserved.
Neil – Sitter
Hello! My name is Neil. Before joining Aja Pet Service, I was a professional Pet Care Provider in the suburbs of Philadelphia, PA. I also trained and handled (2) male Terriers to multiple titles and assisted a few dog owners in obtaining Conformation Points on their beloved canine best friend at such prestigious shows as The Westminster Kennel Club Show In NYC, the National Dog Show in the Philadelphia area, the AKC Invitational in Orlando, and the Montgomery County Kennel Club All Terrier Show. Though my academic background is in Human Resources and Marketing Management, I have attended many seminars on Companion Animal Behavior, Care, Health, Grooming, Nutrition, and Training. I have hands-on experience with over (100) different Canine breeds, more than (25) distinct Feline breeds, and quite few unique exotic and avian breeds. Unfortunately, my beloved canine companion pictured above, Ch. Windrush Gunther Lrd of Mnr, CGC, crossed over the Bridge of Life late last year. Though I miss him terribly, there is a lot of love in my heart to give to your precious family pet for daily or overnight visits if you reside anywhere between Boca Raton and Palm Beach Gardens, and even if you are in the western communities as far as Wellington.
Bettina- Sitter
Hello – I'm Bettina, a native of Hungary. Prior to life in the States, I studied in Europe, got my Bachelors degree & worked in pharmaceuticals doing clinical research. My career required a lot of travel; and traveling got very old – it was time for a change. When I left clinical research, I began helping friends by pet sitting for their furry and feathery children because they can sense my passion and love for all animals. Nurturing them is second nature. They innately understand my love & I immediately connect with them. They come to know they can count on me – unconditionally. It's a privilege to be trusted with your pets and you can be sure that I will live up to your expectations of loving care when you can't be there. I look forward to providing dog walking, cat sitting, and in home overnight pet sitting services for Palm Beach Gardens, Jupiter, Juno Beach, Juno Isles, and North Palm Beach.
Elizabeth "Z"- Sitter
Hello, my name is Elizabeth but I prefer to be called Z. I am honored to be a part of the Aja Pet Service Team. Although, I do not own a pet as of yet, however, I have worked at Petsmart for five years and cat sit for four months. I have had many experience with dogs and cats to notice how their behavior have shaped people's lives. I know what they value the most which is the need for as much attention as I can give them. I enjoy interacting with dogs and cats by talking to them, playing, feeding, training and walking them. I have a strong connection with them that I do not feel frightened by them because I can trust them in a way. With their love and affection, they make each day special. They have a special gift and an unconditional love that will never die. In which, I believe is the most astonishing gift that I have ever experience. If you allow me to pet sit either your dog, cat or both then I will be sure enough to show my complete care, love and affection. I hope to make you happy for my job well done. Not to mention, I graduated with a Bachelor degree in Wildlife Science. Basically, animals are my life and will continue to be my life. I do have a day job, but I am available to pet sit from Boca Raton to Jupiter. I am looking forward to making new furry friends along the way and to use my skills to put a smile on your faces and hope that you will never forget the great service I gave to your furry family.
Paul – Sitter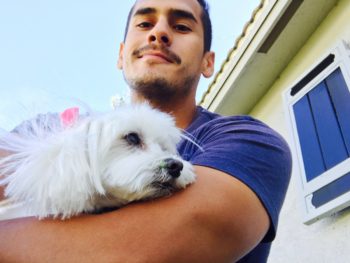 My name is Paul. I was born in Ecuador and I'm currently living in Wellington, Florida. I work with horses, llamas, sheep, goats, cats, and dogs. It's so much fun working with horses every day but I enjoy pet sitting for all kinds of animals but kitty cats are my favorite. I have a happy, healthy, handsome son that motivates me to push myself harder each and every day. Looking forward to meeting you and pet sitting for your fur children. I am available to pet sit and dog walk in the Boynton Beach, West Palm Beach, Royal Palm Beach, and Wellington areas. Currently available for regular weekly dog walks as well as overnight pet sitting.
Andrea – Sitter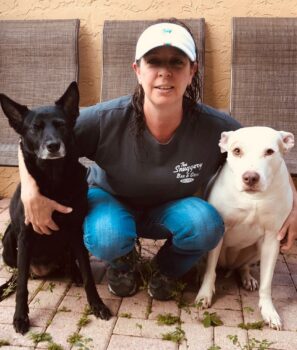 Hi everyone!!! My name is Andrea. I was raised in Northern VA but have been a resident here in the Palm Beach Gardens area for about 25 years. I currently work part time in the evenings as a bartender as well as part time in the daytime as a residential real estate appraiser. As a dog owner myself, I understand that circumstances come up where you need help and it would be nice if you had a reliable and trustworthy sitter on your speed dial. Well, let me put your mind at ease and help you with your pets needs of daily walks and/or overnight stays. I am happy to offer dog walking and cat sitting services in West Palm Beach, Palm Beach Gardens, Juno Beach, and Jupiter areas. Looking forward to meeting and working with you and your pets!
Alejandro – Sitter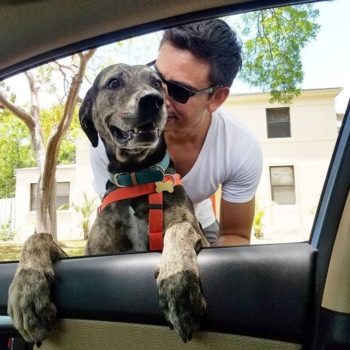 My name is Alejandro and I'm located in Lake Park, Florida. I enjoy being around animals and pet sitting is a great way for me to get my fix since I cannot have any pets of my own at the moment. I have a full time job during the day, so I would mostly be available for overnight pet sitting, cat sitting, and long evening dog walks. I can on occasion be available for a quick afternoon walk as long as it's in West Palm Beach because I work at a local non profit downtown. I look forward to getting to know your adorable animal children.